"Csak" egy koncertfilm:
a pszichedelikus/blues gyökereihez mindvégig hű Led Zeppelin 1973 júliusi bulija a New York-i Madison Square Gardenben.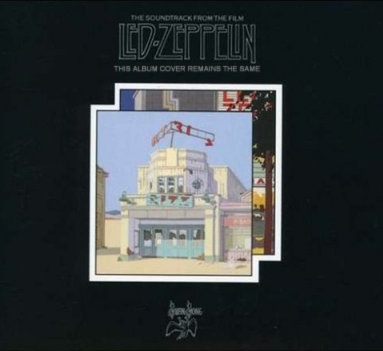 De micsoda koncert!
John Bonham egy óramű pontosságával és egy atombomba energiájával dobol;
John Paul Jones hol a basszusgitárt pengeti mennydörgésszerűen, hol szinte éteri futamokat játszik a billentyűkön;
Jimmy Page improvizatív fantáziája – például a 25 perces Dazed and Confused játszásakor – egyszerűen káprázatos;
az aranyhajú Robert Plant pedig egyértelműen bizonyítja, hogy amellett, hogy a korszak egyik első számú férfi  szexszimbóluma (csajok! már egyedül ezért a félmeztelenül éneklő pasiért is érdemes megnézni a filmet!), de az egész rock egyik legintelligensebb énekese is.
S micsoda film!
Mert nem semmi a képi megjelenítés sem. A bődületes színpadi képsorok mellé mind a négy tag megkapja a maga "klipjét" is, melyek a Zep gondolkodásához, szövegeihez illőn többnyire igencsak misztikusak. Sőt! Még a menedzser Peter Grantnek is jut egy – a nyomulós üzletemberi attitűdjét tökéletesen kifejező – gengszteres/leszámolós jelenet, mindjárt a film bevezető képsoraiban.
Persze, ez a remekmű nem véletlenül készült három évig. A munkálatok haladásával elégedetlen Grant 1974-ben kirúgta az eredeti rendezőt, Joe Massotot és Peter Cliftont szerződtette a helyére. Ő nem csupán a kiegészítő képsorokért felelős, de újraforgatott néhány, szerinte az eredeti anyagban nem eléggé ütősre sikeredett "koncertjelenetet" is.
A hangzás pedig egyszerűen lenyűgöző. Ez pediglen köszönhető annak az Eddie Kramernek, aki hangmérnökként olyan óriások legendás albumain/felvételeinél dolgozott, mint például a Beatles, a Rolling Stones és David Bowie, de mindenek előtt Jimi Hendrix, akinek minden stúdióalbumát ő mixelte.
Végezetül mint mindig is személyes élményeit, véleményét stb. megfogalmazó akárkinek, engedtessék meg nekem egy abszolút szubjektív – tehát igazából végképp ide nem illő, mert egy rajtam kívül bárki más szemében tök érdektelen tényt közlő - utóirat:
A  "Stairway to Heaven" sok kritikus szerint eleve az egész rocktörténet tíz legszebb számának egyike. A valóban varázslatos darabnak az ezen a koncerten/filmben/albumon felcsendülő, egyébiránt is mesteri változata az én számomra azért különösen fontos, mert 1978 februárjában ez jelentette a "háttérzenét" nászdélutánom csúcspontjához feledhetetlen, ám tragikusan hamar – még ugyanezen év októberében – autóbaleset áldozatává lett Első Asszonyommal, Rácz Andreával.
Bocs a személyes kitérőért, de az emlékérték is ÉRTÉK.
Rendezők: Peter Clifton és Joe Massot. Operatőr: Ernest Day. Hangmérnök: Eddie Kramer.
A bejegyzés trackback címe:
Kommentek:
A hozzászólások a vonatkozó jogszabályok értelmében felhasználói tartalomnak minősülnek, értük a szolgáltatás technikai üzemeltetője semmilyen felelősséget nem vállal, azokat nem ellenőrzi. Kifogás esetén forduljon a blog szerkesztőjéhez. Részletek a Felhasználási feltételekben és az adatvédelmi tájékoztatóban.