Hatodika után újabb fontos születésnaphoz érkeztünk, így szólok. Születésnapja alkalmából lássuk minden idők legmenőbb gitárhősének legjobb előadásait (tehát nem a legjobb dalaiból készül az összeállítás, mert akkor nyilván a Led Zeppelin II töltené ki a lista első felét).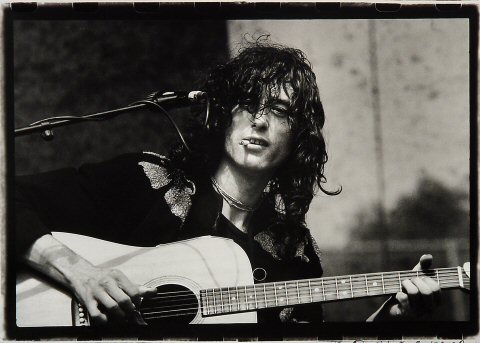 1. A Yardbirds-időszak
Ő az, aki a szintén zseniális Jeff Beck mellett még nagyobb királlyá tudott válni menő színpadi megjelenésének és újfajta gitározási felfogásának köszönhetően.
Tök jó, hogy még ki se mondják a nevét, de már kezdődik az alakítás.
2. Tele Zeppelin
Itt már a saját zenei formációjában
3. How The West Was Won (1972), The Song Remains The Same (1973)
Page egyértelműen 1972-73-ban volt a csúcson. Lássuk az ez időből származó legjobb játékát. Alábbi konczertjük szerintem még jobban sikerült, mint a Madison Square Gardenben rögzített este.
Kristóf barátom mondta ki először: Page nagyon zseniális akusztikus gitáros. Élőben persze sokszor a Danelectrot hívta segítségül.
Ajánlom a ritkaságnak számító akusztikus verziót is:
Minden idők legjobb konczertteljesítménye ez a dal:
Minden idők egyik legkreatívabb konczertteljsítménye:
4. Listen to This, Eddie (1977)
A '77-es Zepp turné nem volt a legjobb, de ez az este akkorát ütött a zenetörténetben, hogy még a fiatal Eddie is megszólítva érezte magát tőle. Aztán tudjuk, hogy mi történt '78-ban... (Na jó, ez.)
(Az egész hangverseny: Listen to This, Eddie)
5. A nagy visszatérés (80's rock and roll)
Még Strattal is látni lehetett...
Ez ugyan nem élő, de annyira kevesen ismerik, pedig az egyik legjobb dala, első szólólemezéről:
6. Robert Plant, Jimmy Page Unplugged
A turné is kifejezetten jól sikerült, amin végre újra láthattuk tekerőzni. Régen: 
és '95-ben:
7. It Might Get Loud
Ez a beállás.
Ha minden igaz, idén érkezik az új nagylemez. Addig is zenében, gitárockban és szerelemben gazdag új évet kívánunk, Jimmy Page!
A bejegyzés trackback címe:
Kommentek:
A hozzászólások a vonatkozó jogszabályok értelmében felhasználói tartalomnak minősülnek, értük a szolgáltatás technikai üzemeltetője semmilyen felelősséget nem vállal, azokat nem ellenőrzi. Kifogás esetén forduljon a blog szerkesztőjéhez. Részletek a Felhasználási feltételekben és az adatvédelmi tájékoztatóban.