Egy legendás koncertterem + egy életművéért Oscar-díjat kapott rendező (emellett még egy Oscar, hét Oscar-jelölés, egy-egy cannes-i és berlini nagydíj stb.) + egy "all star" operatőrcsapat, amelyikből mindenki bárhol bármikor lehet bármelyik kultuszfilm vezető operatőre (többségük volt is – "Szelíd motorosok", "Dühöngő bika", "A keresztapa", "Harmadik típusú találkozások" stb.) + tucatnyi zenészlegenda = azzal, amit sokan a hippikorszak filmes lezárásának tekintenek.
S közel sem megalapozatlanul.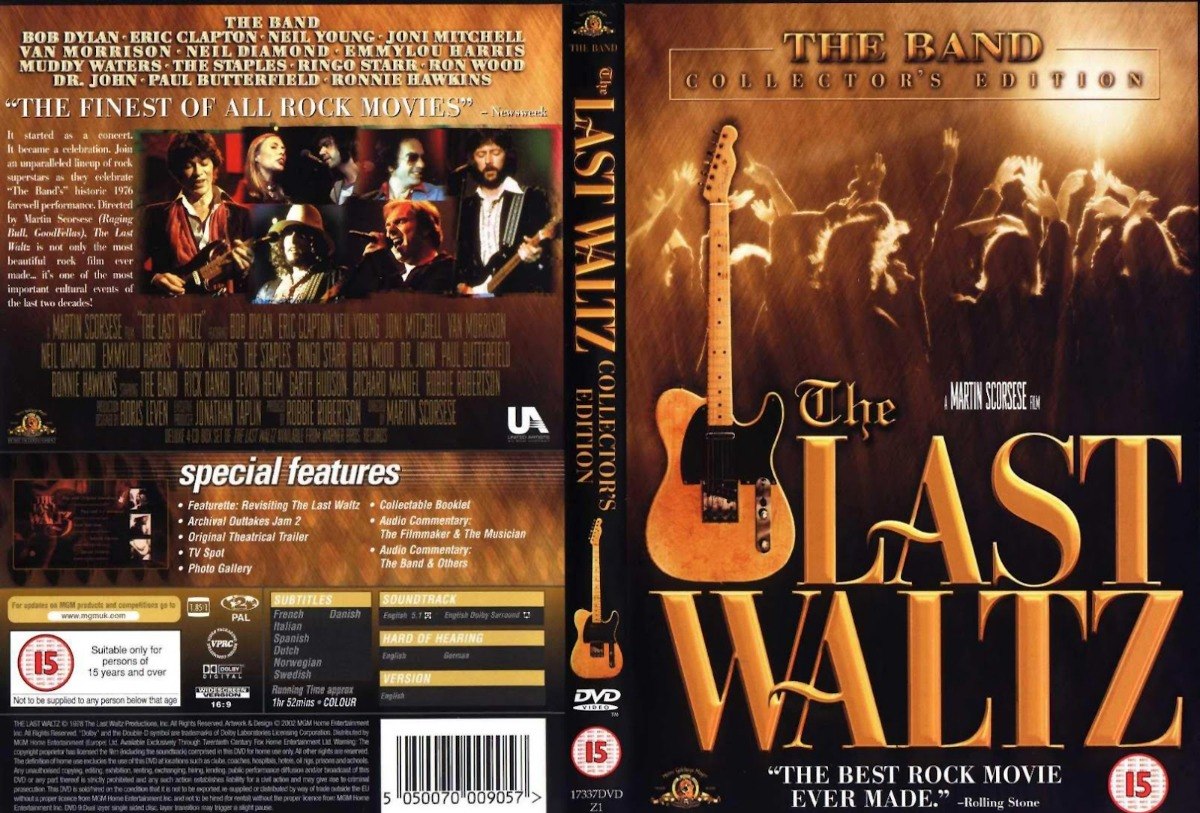 november 25. (Hálaadás Napja) – San Francisco, Winterland Ballroom: Ekkor és itt tartotta tizenöt év együttzenélés utáni búcsúkoncertjét a The Band. "A Banda", amelyik Woodstockban is fergetegeset hasított, s amelyik nem csupán saját jogán adott ki korszakos jelentőségű albumokat (Music from Big Pink, Stage Fright), de közreműködött a hippikorszak számos zenészóriásának munkáiban is. Bob Dylan például velük készítette a legendás "Basement Tapes" felvételeit.
S ez meglátszik a koncerten is. Amellett, hogy maga A Banda – ha ez lehetséges egyáltalán – szinte felülmúlja önmagát. Elképesztő az abszolút értelemben veendő "sztárvendégek" listája: a kanadai rock'n'roll-mágus, Ronnie Hawkins (a The Band az ő kísérőzenekaraként alakult Hawks néven); a blueslegenda Muddy Waters, akinek "Mannish Boy"-előadása egy kritikus szerint "olyan erőteljes, hogy átégeti a filmvásznat"; a "blue-eyed blues" olyan gigászai, mint a szájharmonikás Paul Butterfield, a zongorista-énekes Dr. John, az énekes Van Morrison és Eric Clapton; a folk-rock képviseletében Neil Young és Joni Mitchell; az ekkoriban már a Rolling Stones "külsőseként" gitározó Ronnie Wood; a minden nagy buliból kihagyhatatlan Ringo Starr; s természetesen maga Bob Dylan, aki saját dalai előadása mellett "levezényli" az "I Shall Be Released" záró kórusát is, melyben minden fellépő részt vesz.
Ha ehhez hozzávesszük,
hogy egy-egy szöveg felolvasására megjelenik a beat-irodalom két óriása, Lawrence Ferlinghetti és Michael McLure,

hogy a számok közé illesztve a rendező Martin Scorcese beszélget a The Band tagjaival,

hogy a kétéves utómunkának köszönhetően a legapróbb képkocka is pontosan a helyére került,
hát teljesen szónoki a kérdés: kell-e, egyáltalán lehetséges-e méltóbb, grandiózusabb, minőségibb és magasztosabb záróakkord az underground ellenkultúrához?

Rendező: Martin Scorcese. Operatőrök: Bobby Byrne, Michael Chapman (két Oscar-jelölés), Kovács László (életmű-Oscar), David Myers, Hiro Nahita, Michael W. Watkins és Zsigmond Vilmos (egy Oscar, három Oscar-jelölés).
A filmajánló szerzője blogunk szellemi támasza, Diogenidész.
A bejegyzés trackback címe:
Kommentek:
A hozzászólások a vonatkozó jogszabályok értelmében felhasználói tartalomnak minősülnek, értük a szolgáltatás technikai üzemeltetője semmilyen felelősséget nem vállal, azokat nem ellenőrzi. Kifogás esetén forduljon a blog szerkesztőjéhez. Részletek a Felhasználási feltételekben és az adatvédelmi tájékoztatóban.