Két örmény szőnyeget, dús élményeket és - kissé önkényesen - egy új System Of A Down lemezt kívánunk az ötvenegy éves rocklegendának. A Mezmerize/Hypnotize duplaalbum több mint tíz év távlatából is csodálatos, minden idők egyik legjobb korongjának számít. De szólómunkássága és a System valamennyi száma egyaránt kedvenceink közé tartozik. Születésnapja alkalmából lássuk TOP 10+1 legjobb Serj Tankian dal listánkat.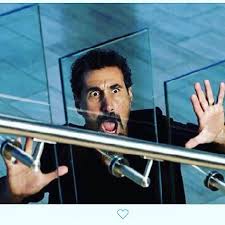 1. Ego Brain

2. Tentative

3. Revenga

4. Saving Us

5. Soldier Side

6. Sky Is Over

7. Chop Suey

8. Kill Rock and Roll

9. U-Fig

10. Violent Pornography

10+1. Radio/Video
 A régi szép időkre pedig emlékezzünk ezzel a finomsággal:
:-)
A bejegyzés trackback címe:
Kommentek:
A hozzászólások a vonatkozó jogszabályok értelmében felhasználói tartalomnak minősülnek, értük a szolgáltatás technikai üzemeltetője semmilyen felelősséget nem vállal, azokat nem ellenőrzi. Kifogás esetén forduljon a blog szerkesztőjéhez. Részletek a Felhasználási feltételekben és az adatvédelmi tájékoztatóban.