Folytatjuk előző héten megkezdett cikksorozatunkat, amiben 1968 lemezeit tárjuk fel. Ismét sorra kerül öt lemez a legnagyobbaktól. Terítéken a Zombies, Nico, Buddy Guy és a Moon, ill. a minimalista komolyzene első nagy szerzeményéről is szó esik.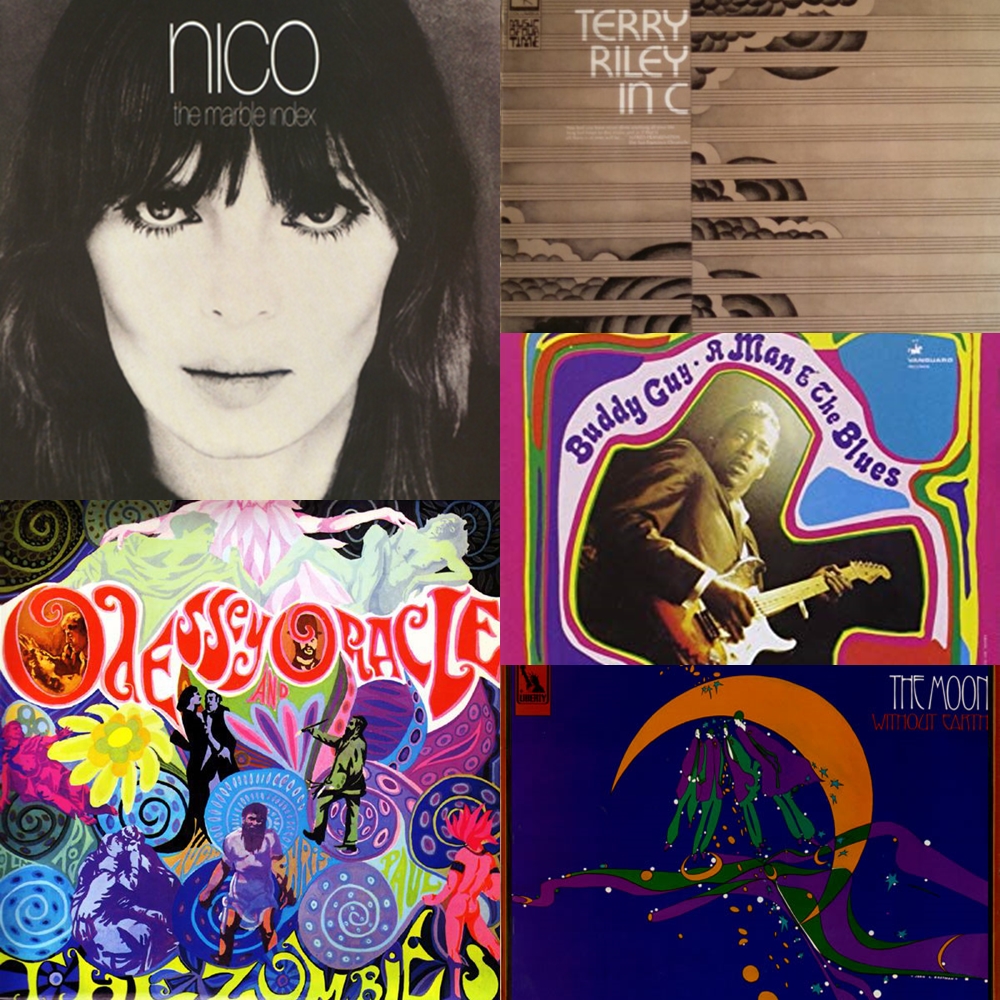 The Zombies: Odessey And Oracle
A sok jobbnál jobb album között az egyik kedvenc bandám pazar lemezéről is írhatok. Tudom, most sok Beatles és Stones rajongó megkövezne, mégis én az angol beatzene pszichedelikus-progresszív vagy blues-os irányát, amit az Animals, a Yardbirds, a Traffic, a Cream vagy éppen a Zombies képvisel, kedvelem a leginkább (nyilván nem sokkal kevésbé rajongva az előbbiekért). A zombik elvontabb, billentyűs játékra és Colin Blunstone jellegzetes hangjára, ill. kreatív vokálokra épülő zenéje valamit nagyon elkapott az ártatlan hatvanas évekből. Két legendás  hatvanas évekbeli albumuk legalább annyit hozzátett az első brit invázióhoz, mint a náluk sikeresebb többlemezes groupokéi. A csapat motorja a White-Argent szerzőpáros volt. Első korongjukhoz képest kevesebb natúr beat/pszichedelikus rock slágert kapunk, lényegesen színesebb hangszerelést hallhatunk és a soul mellett a barokkpop is megérkezik. Jóllehet a Zombies a valaha volt egyik legkiemelkedőbb singles-banda, mégis ritka erős albumokat készítettek. A lemez lezárásaként pedig a három nagy, klasszikus Zombies sláger, a She's Not There, a Tell Her No és a Time of the Season közül utóbbi csendül fel.
A legjobb dalok: Time of the Season; Butcher's Tale (Western Front 1914).
Nico: The Marble Index
A mélyhangú énekesnők csoportjának méltán kedvelt tagja, a német Christa Päffgen, vagyis Nico második (az első, Chelsea Girls-től eltérő) szólólemezét jelentette meg 1968-ban. A Velvet Underground hangvilágát idézik a dalok, ugyanakkor sokkal elvontabb kompozíciókat hallunk és lényegesen nagyobb hangsúlyt kap, sőt dominánssá válik a népzenei hatás. A germán dalok és a Velveténél kevésbé súlyos, hosszú, art rockos számok ugyanakkor nem kísérleti anyaggá nőnek össze, hanem egy az első másodperctől az utolsóig érett albumot kapunk. Nehezebben emészhető zene, de kiforrott koncepció. Az egyébként kiváló, hiányosságaival tökéletes Velvet lemezhez képest itt a keveréstől kezdve minden rendben van, egy melléfogásnak helye nincs. Nem is dalszerzésről, inkább zeneszerzésről beszélhetünk. Nico beat-korszaka után a Factory-ből saját elvont világába költözött.
A legjobb dal: Evening of Light.
Buddy Guy: A Man And The Blues
A Chicago Blues királya, a leggyorsabb kezű tradicionális blues gitáros az ötvenes évek végétől adta ki single-jeit, első lemeze azonban csak 1967-ben jelent meg. A nem éppen bőséges klasszikus LP-terméséről híres zenész (idén jelent meg a Keith Richards és Mick Jagger közreműködésével készült The Blues Is Alive And Well, érdemes meghallgatni) '68-as A Man And The Blues-a vetekszik legjobb korongjával, az 1991-es Damn Right, I've Got the Blues-zal. A chicagoi muzsikusok mindig is színesebb, dallamosabb blues-t játszottak, mint a kötött ritmikájáról és szomorkás tónusáról híres delta-menti gitárosok vagy a szikár texasiak. Buddy szokás szerint sokat szólózik, de szólói játékossága miatt sokkal kevésbé statikusak, mint másokéi. A mindent elsöprő, tökig erősített gitárhang helyett, a hangszerek együtt szólalnak meg. Chicagora jellemző módon nem pusztán jammelés folyik a színen, riffek, dalok csendülnek fel. Igaz, az album zárásaként minden idők egyik legizgalmasabb, gyakorlatilag szólózgatásoktól mentes jamét halljuk. A király hangja a királyokénál (BB King, Freddie King, Albert King) magasabb, a számok közben elhangzó megjegyzései külön ízt adnak a lemeznek.
A legjobb dalok:  I Can't Quit The Blues; Jam On A Monday Morning.
The Moon: Without Earth
1967-ben, a barokkpop áttörésének évében alakult a rövid életű, ám annál jelentősebb szupergroup, a Moon. Sajnos széles zenei portfolió letételére nem kerülhetett sor, két nagylemezük műfajilag és hangvételében is élesen eltér egymástól. A Without Earth esetében figyelemre méltó, hogy (Syd Barrett mellett) szinte elsőként milyen bátran használják és keverik a space rock, ill. a barokkpop elemeit. Zenéjük ugyanakkor sokkal vidámabb, mint a Floydé és a szimfonikus elemeket sem vetik meg. Az énekes-dalszerző Matthew Moore, akinek a neve később Joe Cocker vagy Barbara Streisand slágerek kreditjei közt is feltűnt, jellegzetes egyedi világot teremtett. Mellette pedig feltűnik és nem kevés korai Beach Boys hatást épít be a zenébe a korábbi BB gitáros David Marks. Mindkét LP-jük gondosan felépített, összetett dalokból áll, a Traffic-hez hasonlóan már 1967-ben előlegezik a hetvenes évek komplex progresszív rockját. Ugyanakkor a Moon mindvégig másodhegedűs banda maradt, a magas szintű dalszerzés mellett nem sikerült igazán megtalálniuk saját arculatukat.
A legjobb dalok: Brother Lou's Love Colony; She's On My Mind.
Terry Riley: In C
1968 a modern zenei avantgárd egyik csúcsának is tekinthető. A sok kísérletező zenekar mellett feltűnik a minimalista komolyzene első nagy alkotása, az iskola királyának, az idén nyolcvanhárom éves Terry Riley-nak monumentális műve, az In C. Riley már 1964-ben megírta mesterművét, lemezre mégis a Nagy Esztendőben került. Az In C valószínűleg a legmegosztóbb alkotás az egész cikksorozat összes tárgyalt albuma közül, én mégis zseniálisnak tartom. Nem pusztán nagy hatása és jelentősége miatt. Ha huszonöt ilyen lenne, elég unalmassá válna a dolog, aki viszont ezt kitalálta, igazi zseni. Az a telt hangzás, a sok zengő hangszer számomra Jackson Pollock festményeit idézi: egy adag görcs és gátlás, az ember lelke kerül a vászonra vagy a bakelitre. Biztos van, aki transzba esik, ha meghallja, én nem ezt gondolom a megfelelő kifejezésnek az élmény leírására. Valamiért felszabadít. Nagyon tetszik, hogy minden teret betölt a zene és cseng. Tetszenek a háttérben csendülő hangszerek. Megosztom kedvenc (és egyébként legsikeresebb) Riley művemet is, ami jóval befogadhatóbb, de legalább annyire kifejező, mint az In C: A Rainbow In Curved Air .

Az első részben a Pink Floyd, Szabó Gábor, a Traffic, az Omega és Laura Nyro albumairól olvashattok.
A teljes cikkorozat itt követhető.
Folyt. köv. :-)
A bejegyzés trackback címe:
Kommentek:
A hozzászólások a vonatkozó jogszabályok értelmében felhasználói tartalomnak minősülnek, értük a szolgáltatás technikai üzemeltetője semmilyen felelősséget nem vállal, azokat nem ellenőrzi. Kifogás esetén forduljon a blog szerkesztőjéhez. Részletek a Felhasználási feltételekben és az adatvédelmi tájékoztatóban.