Új sorozatot indítunk: minden héten bemutatunk néhány idén ötven éves, 1968-as lemezt. Bár szerkesztőségünk úgy véli, hogy zenei oldalról nézve a korszak páratlan évei (pl. 1967 és 1969) általában érdekesebbnek bizonyulnak a párosoknál, '68 sem volt gyenge év, sőt. Társadalmi-politikai jelentősége pedig nyilván tagadhatatlan. Utóbbiról ősszel podcastben is beszélgetünk majd kicsit, ebben a cikksorozatban viszont kizárólag a jobbnál jobb korongokkal kívánunk foglalkozni. Lássuk az első öt albumot.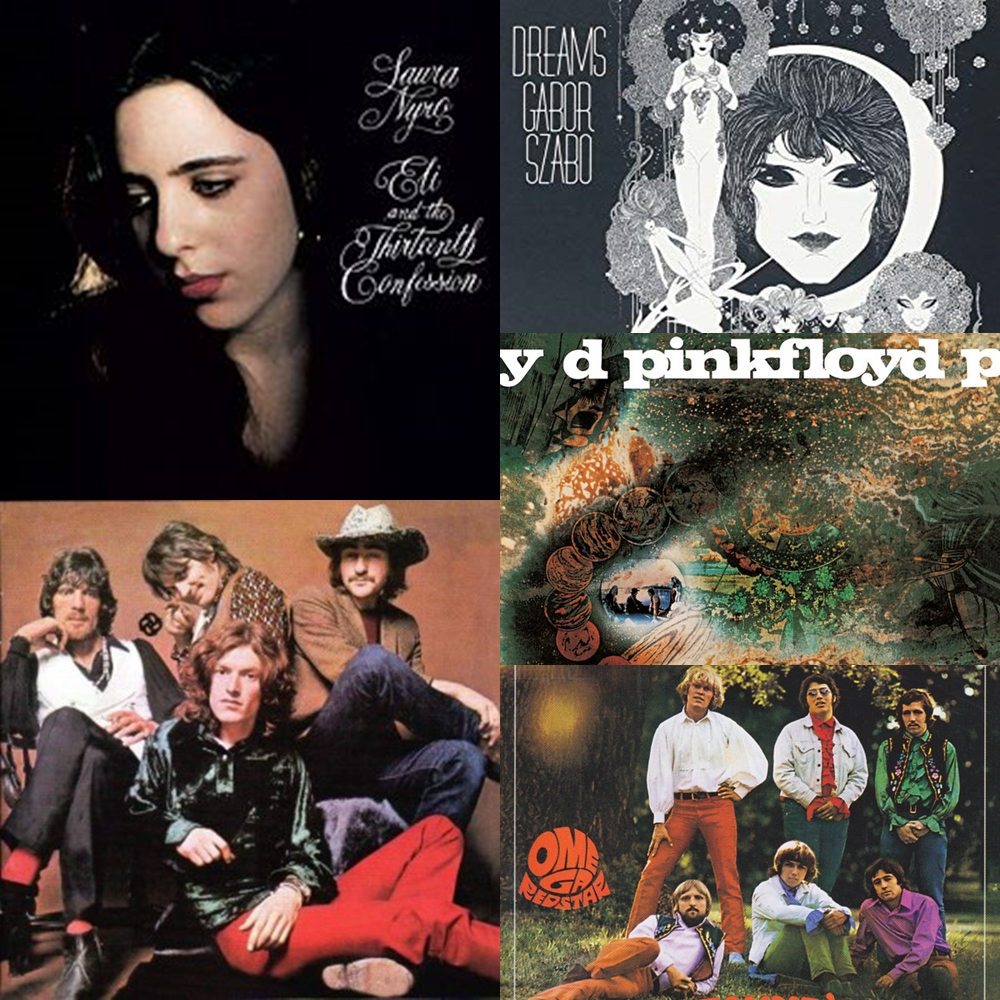 Pink Floyd: A Saucerful Of Secrets
Az egyetlen Pink Floyd album, amin mind az öt tag (már ha Bob Klose-t nem számítjuk) játszik (alább ld. egyetlen ismert közös fotójukat). A korábbi frontember Barrett hatása elharapódzó kábszerhasználata miatt kevésbé érződik a lemezen, de az újonnan beugró David Gilmour sem itt tette le igazán névjegyét. A banda irányítását Wright és Waters vették a kezükbe és azonnal a későbbi progos-art rockos, telt, szelíd, érzelmes és űrbéli Floyd-hangzás felé lökték a zenekar arculatát. Bár a Barrett-féle pszichedelika sem tűnik még el. A két irány találkozása gyönyörűen hallható a kiváló space rock kezdődal Let There Be More Lightban, Wright hetvenes éveket idéző Remember a Day-ében, a Corporal Cleggben és a Saucerful Of Secrets pszichedelikus kezdéséből wrightos-gilmouros  dallamába hajló váltásban. A kiemelkedő daloktól hemzsegő lemez nem rosszabb az elsőnél és tökéletesen megágyaz a váltásnak, amit két kísérleti album (Ummagumma; Atom Heart Mother) után a Meddle hoz el véglegesen. A nagy korszak (1971-79) zenei világa már bőven érezhető itt, 1968-ban is.
Az album legjobb dala: Remember a Day.
A teljes lemezt youtube-on sajnos csak lejátszási listában tudjátok meghallgatni: https://www.youtube.com/watch?v=fcFrivOpCwc&list=PL3PhWT10BW3Vcxa7faKH0l0EehjnDjsGA
A lemezt viszont nyilván beszereztétek és már fel is tettétek otthon.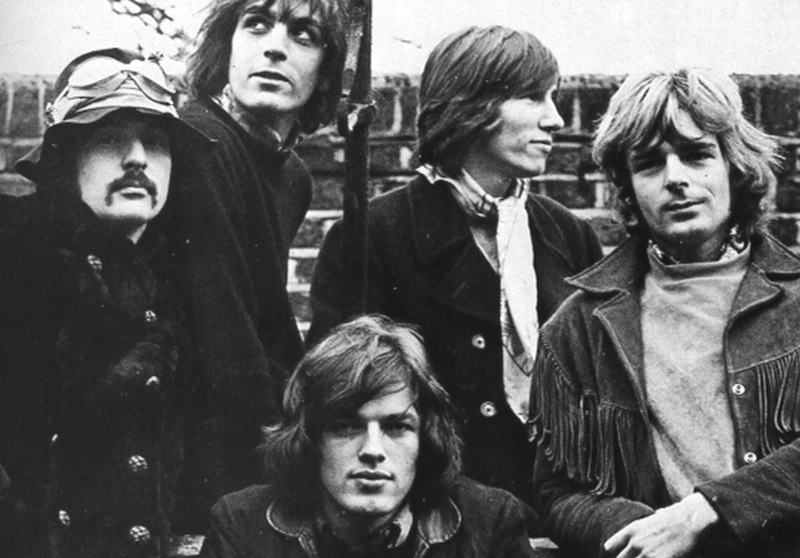 Szabó Gábor: Dreams
Minden idők legjobb és legnagyobb karriert befutó magyar jazz gitárosa a modern jazz alapjait pakolta le a crossover és a third stream (vagyis a dzsessz klasszikus-, nép- és popzenével való ötvözése) egyik első képviselőjeként. A Dreams (Álmok) nem pusztán a legjobb és legsikeresebb, de az az albuma is, aminek készítésébe nem szólt bele a stúdió. Saját szerzői világa, szabad gitárjátéka, ami Kodályt és a népzenét, Manuel de Fallat és a Beatles pszichedelikáját is elbírja, itt teljesedhetett ki. Egyben az volt az utolsó év, amikor újítóként tudott fellépni, a fusion és a rock keményebb hangzásával tiszta, akusztikus gitárra épülő zenéje már nem tudott lépést tartani. Ugyanakkor ha nincs Szabó Gábor és a Dreams, akkor nincs Chick Corea vagy Santana sem.
Az album legjobb dala: The Fortune Teller.
Traffic: Traffic
A hatvanas évtized végére a Beatles-Stones vetélkedés mellé zárkózó Cream-Traffic páros (ami aztán a Blind Faith nevű supergroupban egyesült) új utat nyitott a rockzenében. A jammelős, progresszív rockos, blues-os irányvonalat megjelenítő bandák 1967-ben debütáltak, majd '68-ban újabb LP-vel álltak elő. A Dear Mr. Fantasy kreativitását szerintem nem éri el ez a lemez, viszont hasonlóan jó munkáról beszélhetünk. Talán kicsit kettészakad az album, ahogy a Dave Mason-féle beat dalok és a Winwood-Capaldi-féle jammelős számok végig váltogatják egymást. Úgy a vokál, mint a stílus terén. Ezt a hibát leszámítva azonban tipikus Traffic hangzást kapunk, rájuk jellemző erős lemezindító opusszal (You Can All Join In), sokszínű fúvósjátékkal, kis barokk-poppal (Cryin' to Be Heard) és az albumon haladva egyre jobban kibontakozó progresszív témákkal (pl. Forty Thousand Headmen).
A legjobb dal: Cryin' to Be Heard.
Omega: Trombitás Frédi és a rettenetes emberek
Az első egy előadós hazai rock album megszületése (az első hazai rockzenei LP az Ezek a fiatalok, az azonos c. filmhez készült lemez) annak köszönhető, hogy az Omega első angliai körútján egy albumot is felvett, a párt pedig nem tűrte, hogy az imperialisták előbb dobjanak piacra egy ilyen kincset, mint mi. Jóllehet Kóbor Mecky saját bevallása szerint haza akart rohanni, amikor londoni fellépésük előtt meghallotta a Spooky Tooth-t, a Spencer Davis Groupot és a többi sikeres brit csapatot játszani, annyira elmaradottnak érezte saját anyagukat az övékhez képest. Utólag visszanézve láthatjuk a lemez gyengeségeit (kiforratlan dalszerzés és dallamvezetés, viszonylag elmaradott magyar stúdiótechnika), ugyanakkor már ezen az albumon is hallható egy-két sláger (Trombitás Frédi; Ha én szél lehetnék; Egy lány nem ment haza). Rögtön érezhető a progresszív-pszichedelikus irány preferálása, ám itt még a kvázi-dalszerző Presser első kísérletező szárnybontogatásaival találkozunk, amik aztán monumentális, örökérvényű dalokká álltak össze már a 10000 lépésre.
Az album legjobb dala: Ha én szél lehetnék.
Laura Nyro: Eli And The Thirteenth Confession
A jazz, a soul és a doo-woop elemeit keverő legendás énekesnő második albuma az elsőhöz hasonlóan jól sikerült. Legalább olyan elbűvölő ez a korong, mint a borítón látható sejtelmes, Morticia Addams-re hajazó kép. A hippi korszakot kifejező, könnyen hallgatható, ám sokszor kifejezetten mély számok követik egymást. A zongora-ének alapú dalépítkezés és a doo-woopos vokál mellett megszólaló (pl. vonós vagy fúvós) kiegészítő kíséret miatt akár egyedül, akár társaságban is jó választás. Nyro visszahúzódó, elvont jelleméhez társuló ritka magas és finom hangja varázslatos, simogatja a füleket. A lassabb és dinamikusabb dalok végig váltogatják egymást. Carole Kingre (és az easylisteningre) tett hatása vitathatatlan. Szellemiségében pedig igazi '68-as abumról beszélhetünk.
Az album legjobb dalai: Eli's Comin; Luckie.

A második részben a Zombies, Nico, Buddy Guy, a Moon és Terry Riley albumairól olvashattok.
A teljes cikksorozatot itt követhetitek.
Folyt. köv. jövő héten. :-)
A bejegyzés trackback címe:
Kommentek:
A hozzászólások a vonatkozó jogszabályok értelmében felhasználói tartalomnak minősülnek, értük a szolgáltatás technikai üzemeltetője semmilyen felelősséget nem vállal, azokat nem ellenőrzi. Kifogás esetén forduljon a blog szerkesztőjéhez. Részletek a Felhasználási feltételekben és az adatvédelmi tájékoztatóban.