Stephen Malkmus egyszerűen nem tud hibázni! Az egykori Pavement frontember a 90-es évek eleje óta csak úgy ontja magából a jobbnál jobb lemezeket. A májusban végén kijött Sparkle Hard tényleg keményen szikrázik - Malkmus és a Jicks eddigi legjobb dalgyűjteménye.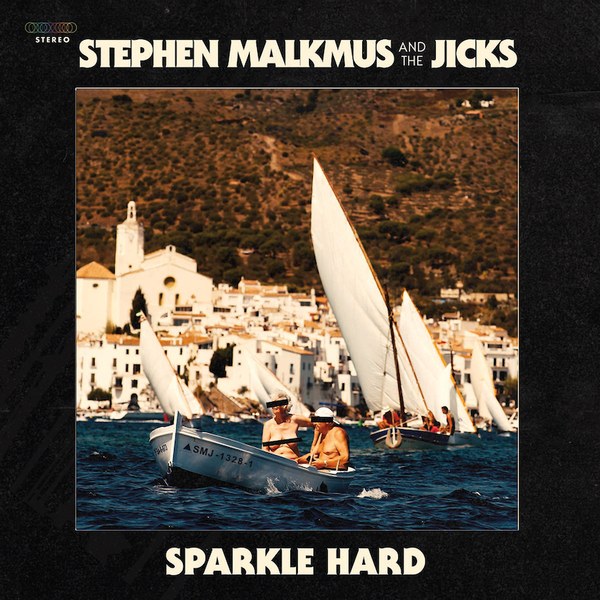 Stephen Malkmus - mint ahogy már korábban megírtuk - az amerikai indie rock egyik úttörője, az elmúlt harminc év egyik leglazább és legtehetségesebb dalszerzője. A Sparkle Hard május 18-án jelent meg, előtte viszont egy tíz perces, Robert Altman stílusjegyeit megidéző kisfilmmel jelentkezett Malkmus és a Jicks. Ebben Malkmus elmondta, hogy ő leginkább a dalszerzéshez ért, a szelektálás és a dalcsokorba rendezés nehezebb ügy számára. Már-már kényszeresen kreatív, nehezen tudja eldönteni, mely dalok érdemesek arra, hogy kiadja lemezen, viszont cserébe folyamatosan ír.
"Most csak szeretném érdekessé tenni a dalszerzést saját magam számára. Ennek biztos van valami különös oka. Idősebb korunkban mindenhez sokkal több idő kell. Ha visszagondolok a húszas éveimre, akkor sebezhetőséget érzek, minden olyan gyorsan történt. Akkor sokkal kevésbé gondoltam végig, hogy mit csinálok."
Nem csoda, hogy az előző Jicks-szel felvett lemeze közel négy és fél éve jött ki. A 2014-es Wig Out at Jagbags hozta a Malkmustól elvárt szintet, az azt megelőző 2011-es Mirror Traffic meg talán a legjobb lemeze volt a pavementes évei után. Malkmus, bár már 51 éves, még mindig olyan mintha a '90-es években ragadt volna, talán csak az őszülő hajszálai mutatják az idő múlását.
A Sparkle Hard viszont nem múltba révedő lemez - igazán aktuális témákat feszeget, Malkmus őszintébbnek hat mint valaha. A mindenre magasról tevő, örökké unott és a komolyságot kerülő perszónájától igen messze áll egy az életével számot vető, idősödő művész alakja. A lemezről elsőként megjelent Middle America akár egy vallomásnak is felfogható. Egyrészt megerősíti, hogy igenis van még mit mondania a világról, nem fog eltűnni: "I will not be one of the watchers,I will not disappear". Másrészt reflektál aktuális problémákra, mint például a nők elleni erőszak: 
Men are scum, I won't deny/ May you be shit-faced the day you die/ And be successful in all your lies
In the wintertime...
A Bowie-t megidéző zongorás Cast Off az 1995-ös We Dance óta az első lassú, balladás nyitány.. A Future Suite tipikus Malkmus/Jicks dal, a vége a '70-es évekbeli Yes vokál harmóniáira emlékezet. A Solid Silk és a Bike Lane talán a lemez két legjobb dala. Előbbi szintén ballada, Malkmus karrierjének eddigi legjobbja, gyönyörű vonósokkal és hammond orgonával. A basszus által vezérelt Bike Lane pedig a baltimore-i Freddy Gray 2015-ös halálát dolgozza fel - a színesbőrű fiút egy rendőr lőtte le, sokak szerint puszta rasszizmusból. A Bike Lane közepe táján hallható a legjobb gitár riff az albumon.
A Rattler érdekes húzás, Malkmus itt autotune-t használ, de inkább a hangjának lerontása és a komikus hatás a célja. Malkmus frivol humorával talán most először dolgoz fel aktuális témákat. A Brethren-ben is előjön az autotune - ehhez a számhoz valószínűleg klip is fog készülni. A szám nyitánya a Malkmus-hangzás dióhéjban: olyan hanyag és laza egyszerre, hogy már-már egy új minőségi kategóriát teremt.
A 44 perces visszatérés közepén található a Kite, ami a leghosszabb és talán a legérdekesebb a lemezen. A rövid keserédes akusztikus gitáros intrót egy hirtelen érkező szintetizátor csapás vezeti át a dal ritmusos részébe. Később a katarzis Malkmus és Mike Clark közötti gitárszóló duóban csúcsosodik ki.
A country-s Refute valószínűleg arról marad emlékezetes, hogy Kim Gordon vendégszerepel rajta a Sonic Youth-ból. Az amerikai underground "végzet asszonya" az első, aki "külsősként" szerepelt egy Malkmushoz köthető dalban. Tény, hogy nagyon sok kapcsolat van a két zenekar között - az ex-pavementes Mark Ibold hosszú ideig a Sonic Youth basszusgitárosa volt. Kim Gordon a maga rekedtes hangján így lép be: 
This is a verse about a woman who dared
To fall head first for her young au pair
Middle-class values and normalcy
To her that was so last century

 
A zárlat se lehetne malkmusosabb - az epikus Difficulties egy ballada, amiben megint vallomásokat hallhatunk a dalszerzőtől. A Let Them Eat Vowels egy könnyed, vicces próbálkozás talkbox effekttel, amiben visszaköszön a legendás Pavement szám, a Shady Lane pár sor erejéig.
Vitatható, de szerintem ez lett Stephen Malkmus legjobb lemeze a Jicks-szel. Igazán érett dalcsokor, amiben a művész kicsit megbékél az életével és elfogadja hibáit és erényeit. Mert ezen az albumon, míg a zenével a legfőbb erényeit mutatja be, addig a dalszövegekben olyan oldalát ismerhetjük meg, amit eddig a szarkasztikus és vicces szövegei mögé rejtett. Teljesen megállja a helyét 2018-ban is, kissé parodizálja a mainstreamet (autotune, talkbox) és napjaink botrányait. 
Stephen Malkmus & The Jicks - Sparkle Hard (2018. május.18.)
legjobb dalok: Solid Silk, Bike Lane, Kite, Shiggy, Refute
értékelés: 8,8/10