1983-ban oly sok minden történt a zenében... Az új hullám csúcsa, az alternatív rock hajnala, és még a legjobb magyar rockopera is ebben az évben jött ki. Harmincöt évet utaztunk vissza a múltba.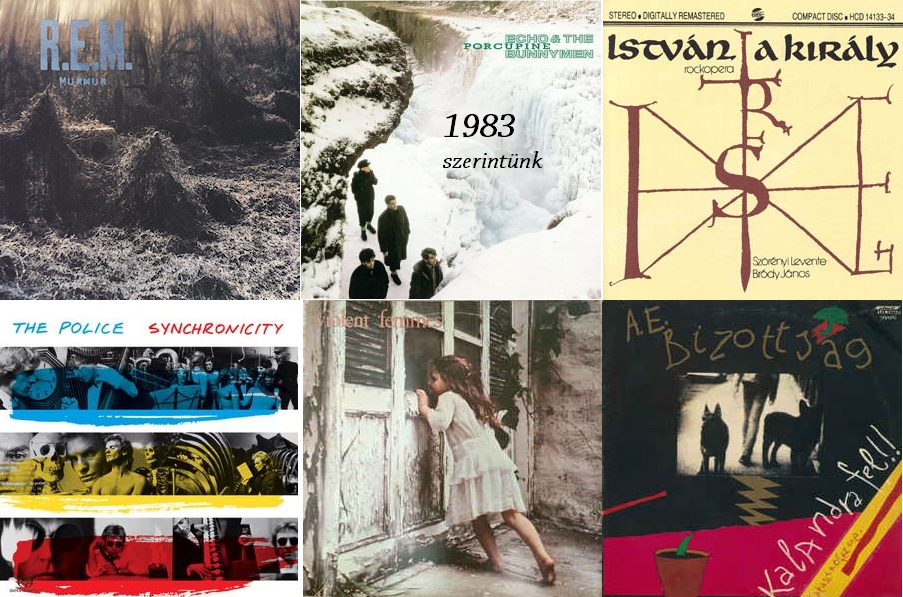 1983 bár oly' régen volt, már harmincöt év is eltelt azóta, minket annyira megihletett, hogy összeültünk beszélgetni egy szűk órácskára erről a csodálatos esztendőről. Az új hullám első rangú hazai szakértője, Jani az irányzat csúcspontját látja az 1983-as évben. Kristóf a mai alternatív rockzene és az indie csíráit véli felfedezni a tárgyalt esztendőben. Buriban pedig most sem kell csalódnunk - ő elhozza nekünk az év legjobb magyar lemez-különlegességeit.
Ezekről a lemezekről beszéltünk sorrendben:
Echo and the Bunnymen - Porcupine
R.E.M - Murmur
Szörényi-Bródy - István, a király
Kitértünk még számtalan más lemezre is ebből az igen termékeny évből. Három szerzőnk listája a következő:
Kristóf listája:
1. R.E.M. - Murmur
2. U2 - War
3. The Violent Femmes - The Violent Femmes
Jani listája:
Echo & The Bunnymen – Porcupine (2)
The Police – Synchronicity (1)
Duran – Duran – Seven and The Ragged Tiger (1)
Spandau Ballet – True (1)
Japan – Oil on Canvas (5)
The Chameleons – Script of the Bridge (-)
David Bowie – Let's Dance (1)
Depeche Mode – Construction Time Again (6)
U2 –War (1)
Talking Heads – Speaking in Tongues (21)
Thompson Twins – Quick Step and Side Kick (2)
U2 – Under a Blood Red Sky (2)
Soft Cell – The Art of Falling Apart (5)
The Cure – Japanese Whispers (26)
Tears for Fears – The Hurting (1)
Eurythmics – Sweet Dreams (3)
Kajagoogoo – White Feathers (5)
KFT – Üzenet a liftből (-)
Yazoo – You and Me Both (1)
Eurythmics – Touch (1)
Big Country – The Crossing (3)
Heaven 17 – The Luxury Gap (4)
B-52's – Whammy! (33)
ABC – Beauty Stab (12)
The Comsat Angels – Land (91)
Zárójelben az UK Official ALBUM Top100 -as listán elért legmagasabb pozíció.
Buri listája:
1. Szörényi Levente-Bródy János - István, a király
2. A. E. Bizottság - Kalandra fel!
3. Hobo Blues Band - Még élünk
Az első részben nem is tudtunk mindent kitárgyalni, úgyhogy ezzel a kis kiegészítéssel válik teljessé a Nagylemez Blog szerzőivel töltött óra. Hogyan éledtek újjá a progresszív rock zenekarok a '80-as években? Mi lett az art rockkal a new wave és a szintipop "árnyékában"?
A következő adásban egy huszonöt éves évfordulót ünneplünk. Izgalmas lesz az 1993-as évről szóló adás is! 
A podcastjeinket az Első Pesti Egyetemi Rádió (EPER97) műsorán is meghallgathatjátok.