35 éves Script of the Bridge nagylemez
    A The Chameleons eredeti felállásából a zenekar basszusgitáros frontembere, Mark Burgess maradt csak. Ő látogatott el hozzánk fiatal zenészekből álló csapatával. A hangversenyen a teljes Script of the Bridge lemezt előadták, az albumon található sorrendben, illetve még három dalt a '80-as évekből. A számok játékideje is nagyjából összhangban állt a nagylemezen feltüntetett időkkel. Nem sokat változtatott Mark a hangzáson, de egy alapműnél ez nem is probléma, úgy jó, ahogy van. 1983 újra szólt, legalábbis 90 percig.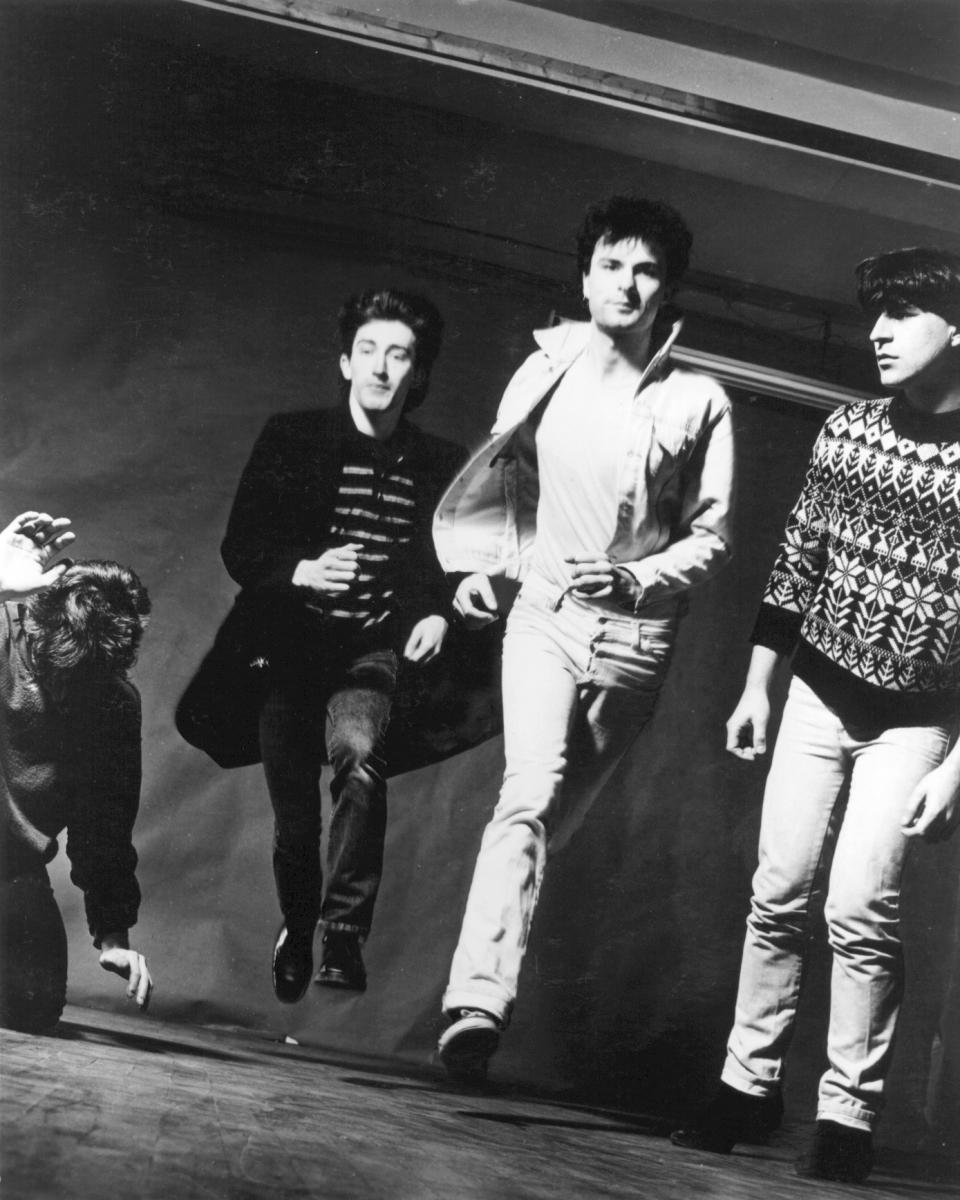 A The Chameleons 1983-ban

Script of the Bridge album: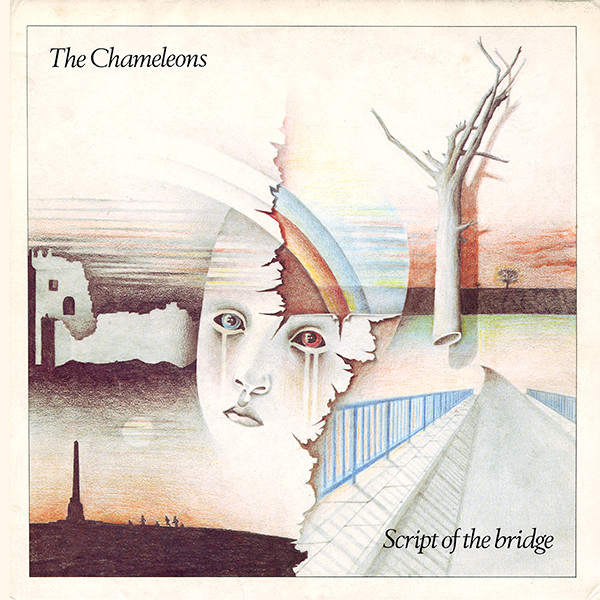 All tracks written by the Chameleons (Mark Burgess, Dave Fielding, John Lever and Reg Smithies).
Don't Fall 4:03   Here Today 3:59   Monkeyland 5:14   Second Skin 6:51  Up The Down Escalator 3:56   Less Than Human 4:10 
Pleasure And Pain 5:08   Thursday's Child 3:32   As High As You Can Go 3:33   A Person Isn't Safe Anywhere These Days 5:40   Paper Tigers 4:16   View From A Hill 6:38
Megjelenés: 1983.08.08.
     Amikor 1983 augusztusában a boltokba került a The Chameleons első nagylemeze, különösebb vihart nem kavart. Hangvételében, megszólalásában nem volt igazán újdonság, az anyagon a nagy előd, a szintén manchesteri Joy Division mellett a The Cure és a Siouxsie and the Banshees hangzásvilága köszönt vissza, főleg a gitárokban és a ritmusszekcióban. A hangkeverés sem volt újszerű, hiszen 1983-ban már népszerű volt a nagyon rideg hangzás, amelynél a éneket mintha valami gyárban vették volna fel és a mikrofonokat jó messzire tették, hogy fokozzák a távolságot zenész és hallgató között. Tipikusan "darkos" megoldás ez a fajta énekhangzás, amit még erősít a pszichedelikus lüktetés. A szövegvilág esszenciája pedig az elmúlás-halál-értelmetlen jövő hármasában lelhető fel. Ebben a teljes dekadenciában a korszak zenekaraitól ugyancsak nem különböztek. A siker is elmaradt, pedig ekkoriban kezdett egyre népszerűbb lenni a szintén darkos The Cure, gondoljunk csak hatalmas slágerükre, a The Love Cats-re. (Persze az már kirándulás a jazz-pop felé.)
És akkor...
Mégis miért lett olyan nagyon fontos ez az lemez?
    Az idő mindent helyretesz, az első és nagyon felszínes megközelítésből. A válasz harmincöt év távlatából vált  egyszerűvé: pontoson összefoglalja tizenkét dalban az 1980-1982 között lezajlott New Wave zenei forradalmon belül a dark, goth és post-punk időszakának a termését. Egyfajta gyűjtemény, ahol mindenki megtalálja a maga kedvenc  dark dalát. Mindenből egy kicsit, és egész lesz belőle. Az album az első hangjától az utolsóig egységesen felépített, konceptalbum a manchesteri '80-as évek világáról. Alapmottója lehetne a lemeznek:                                      
                                                                  élni és meghalni az UK-ban.
    Nincs üresjárat, a lendületes kezdés (Dont' Fall) és a gyönyörű zárás (View From A Hill) között elhelyezkedő tíz dal egytől-egyig remekmű. Mark Burgess énekes-basszusgitárosnak hála tökéletes a dallamvezetése azon a szűk mezsgyén belül, amiben mozog. Feleslegesen nem kísérletezget a hangjával, pontosan tudja, mit tud, illetve hogy mi kell ennek a zenei világnak. Kultikus énekstílus lett. A gitárok úgy szólnak, ahogy egy post-punk zenekarnál elő van írva: dallamok rafinált kivitelben, rock és dekadens romantika, kevés játék, de az apró ötletek, hangok, melyek mindig meglepetést okoznak a hallgatónak. A basszusgitár egyrangúan van jelen a gitárok mellett, ez a '80-as évek vívmánya a darkos szcénában. Egyszerű riffek és semmi szólózás. Nincs sláger, viszont a lemezről egy dal sem lóg ki. Ritkán hallani ilyen egységes albumot egy kezdő zenekartól. A második korongjuk What Does Anything Mean? Basically (1985) már jóval kevésbé egyöntetű, bár azon is találhatók kitűnő dalok. 
                                                                                DON'T FALL  
   A koncert (május 17.) hozta az 1983-as hangzást, nem turbózta fel a dalokat 2000-es évek zenei világára vagy hagyományos rockzenére, mint az tették elég sokan a '90-es években. A közönség pedig pontosan azért jött, hogy kapjon valamit '80-as évekből. Ez megtörtént. Mark Burgess nem okozott csalódást; a dark örök vagy a post-punk, igazából fogalmam sincs, de teljesen mindegy, csak ne zuhanjunk nagyot, mint ahogy a nyitódalban (Don't Fall) énekelte Mark.
Fotók: Szita János
A bejegyzés trackback címe:
Kommentek:
A hozzászólások a vonatkozó jogszabályok értelmében felhasználói tartalomnak minősülnek, értük a szolgáltatás technikai üzemeltetője semmilyen felelősséget nem vállal, azokat nem ellenőrzi. Kifogás esetén forduljon a blog szerkesztőjéhez. Részletek a Felhasználási feltételekben és az adatvédelmi tájékoztatóban.