Méltatlanul kevés szó esik a 2010-es évek zenéjéről, pedig megannyi új irány mutatkozik az évtized vége felé közeledve. Az ezredfordulót megelőző többévtizedes pezsgéshez viszonyítva jelentősen átalakult a zeneipar szerkezete. Sok muzsika például hatalmas rajongótáborral rendelkezik, ezek egységes identitás alatt működő közös csoporttá mégsem alakulnak. Persze számtalan ellenpéldát is tudunk mondani. Egy biztos, a művészet és a zene társadalmi szerepe nem napjainkban a legerősebb. Ám jó néhány előadóra, fiatal, friss, új előadókra ma is érdemes odafigyelni. A Nagylemez Blogon most sorra veszem a szerintem húsz legjobb kortárs (értsd: 2010 utáni) zenei előadót.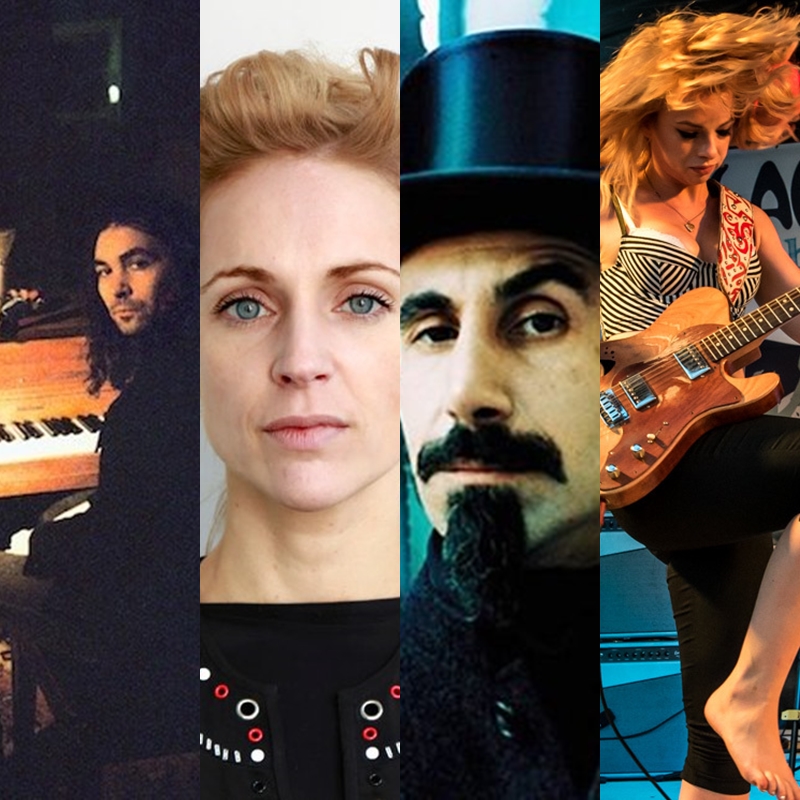 A listámra jobbára olyanok kerültek fel, akik az elmúlt években kezdtek zenélni. Akad azonban néhány régi motoros is, akiknek kizárólag az elmúlt tíz éves munkásságát vettem alapul. A sorrend kialakításánál szerepet játszik, hogy ki hány albummal képviselteti magát. A minimum egy nagylemezt belépő követelményként állítottam. Feltűnő, hogy alig akad férfi előadó. (Magyar sem szerepel a listán, arra külön cikket szentelünk.)
 
1. Chelsea Wolfe - műfaj: goth metál, alternatív rock, amerikai underground
A kortárs zene legeredetibb vállalkozása. Chelsea Wolfe munkásságának érdekessége, hogy a goth metál tónusát átvette, a rockerek által sem mindig kedvelt fültépő metálos zúzást viszont egyáltalán nem. Sokszor kifejezetten lágy muzsikát játszik, a durva húrtépést jelentősen tompítja.
2. Samantha Fish - műfaj: blues, hard rock, blues-soul, country
A kortárs blues királynője, aki sikeresen modernizálta a századelő vándorgitárosainak és a klasszikus rock hagyományát. Valószínűleg korunk legjobb frontembere, kevesen tudják közönségüket annyira bevonni a zenei élménybe, mint ő, pedig dalai végletesen megkomponáltnak.
3. Larkin Poe - műfaj: blues, beat, hard rock
A testvérpár Samantha Fishéhez hasonló klasszikus blues zenéje a kortárs szcénában is elbűvölő. Énekes tudásuk lenyűgöző, játékaikat, feldolgozásaikat szívesen hallgatja az ember.
4. Agnes Obel - műfaj: art pop, folk pop
A popzene alternatív (komoly- és népzenei alapokra építkező) vonulatában egyedi hangján megszólaló Agnes Obel még új zenei paradigmákat is nyithat a következő tíz év alkotói előtt. Sosem hallottam még igényesebb popot.
5. King Gizzard and The Lizard Wizard - műfaj: alternatív/pszichedelikus rock, progresszív rock
Lenyűgöző erejű pszichedelikus progrock. Minden (concept) lemezük egy új világot nyit ki és jár körbe alaposan.
6. Mélanie Pain - műfaj: art pop, újhullám, dream pop
Mint előadóművész - mitikus-bájos megjelenésével - túlmutat finom zenéjén. Esetében sosem csak koncertre megy az ember, egy nagyobb kulturális produkciót kínál mindig közönségének. Ha létezik A Francia Nő, az Mélanie Pain.
7. PJ Harvey - műfaj: alternatív rock, folk rock, art rock, punk blues
A kilencvenes években berobbant rocksztár renoméját megőrizte, immár rocklegendaként tekintenek rá, zenéje viszont még ma is lemezről-lemezre megújul. És ugyanolyan piszkos, mint harminc éve volt.
8. Nova Collective - műfaj: progresszív rock, jazz fusion
A nyolcvanas-kilencvenes évekre némileg kifáradt jazz rock kreatív újjáélesztői. Modern hangzásukkal nem a hetvenes éveket játsszák újra, de nem is fordulnak játéktudásuk öncélú fitogtatásának irányába.
9. Taiwan Housing Project - műfaj: amerikai underground rock, alternatív jazz
A fiatal underground zenekar Bizottságot idéző megoldásaival és radikalizmusával talán a legfrissebb színfolt a kortárs zenében. Kérdés, hogy első - forradalmi - lemezük után milyen irányban indulnak tovább.
10. Serj Tankian - műfaj: art rock, alternatív metál, progresszív rock
Tankian a System Of A Down ideiglenes búcsúja után eljátszotta mindazt, ami a Systemből még benne maradt. Sikerült Malakian hangját leválasztani zenéjéről és saját útját fejleszteni.
11. Greta Van Fleet - műfaj: hard rock, blues-rock
A legklasszikusabb és a legtrendibb kortárs rockzenekar jelzőre egyaránt pályázhatnak. Zenéjük, különösen az ének miatt, a Led Zeppelint idézi, mégsem egyszerű koppintást hallunk. A srác hangja zseniális, dallamaik nagyon vonzók.
12. ZAZ - műfaj: jazz, sanzon, pop
Ritkán tudják a popzene világába behozni a dzsesszt, ZAZ-nak sikerült. A francia énekesnő pazar orgánumával és franciás, sanzonos hang- és érzésvilágával széles hallgatóságot szerzett sokszor nem is olyan könnyed zenéjének.
13. Fazerdaze - műfaj: shoegaze, dream pop
Egyszerű, dúdolható, slágeres témáival hirtelen robbant be a zenevilágba. Lehet, hogy a shoegaze új korszakát indítja el.
14. Valerie June - műfaj: soul, blues, folk, dream pop
Amy Winehouse óta a soul legegyedibb hangú üdvöskéje. Telt hangzású zenéje a soult más műfajokkal kísérli meg - sikeresen - összekapcsolni.
15. Nadine Shah - műfaj: indie rock, folk rock, jazz
A sötét tónust, a vonzó rockos alapokat és az alternatív megoldásokat kapcsolja össze. Az énekesnő kisugárzása pedig emel egyet a téten.
16. Joanne Shaw Taylor - műfaj: blues, rock
A kortárs blues újabb nagy alakja. Kellemes dallamaival és ízes gitárhasználatával bármelyik reggel, délután vagy este el tudja varázsolni hallgatóit. 
17. Dream Wife - műfaj: punk, újhullám
A friss elsőlemezes angol lánybanda sikerrel ötvözi az angol punk puritán hagyományait és az angol (rockos) újhullám elemeit. Koncepciójuk nagyon kiforrott, szövegeik identitást teremtenek az alkotók köré.
18. The War On Drugs - műfaj: alternatív rock, indie, pszichedelikus rock
Az amerikai banda a különböző hangzások és effektek bátor használatával, kísérletezésével élvezhetővé teszi lassú, ismétlődő, gyakran egyetlen témára épülő számait.
19. Tonstartssbandht - műfaj: alternatív rock, indie rock, pszichedelikus rock
A War On Drugs-énál kísérletezőbb, kidolgozottabb dalaik elvont világba viszik a hallgatót. Hosszú opuszaik világokat tárnak fel előtte.
20. Clarke and the Himselfs - műfaj: garázs rock, beat
Az egyszemélyes zenekar, amelyik mégsem fullad bele saját hangzásvilágába, saját ötleteibe. Kreatívan használja orgánumát.