Neutral Milk Hotel - In the Aeroplane Over the Sea
Mém vagy klasszikus lemez? - tehetnénk fel a kérdést a Neutral Milk Hotel második, 1998-ban megjelent albuma kapcsán. Jeff Mangum mesterművén a folk, a lo-fi, a free jazz és pszichedelikus zene elemeit vegyíti briliánsan. Vajon a mémkultúra ártott a lemez megítélésének?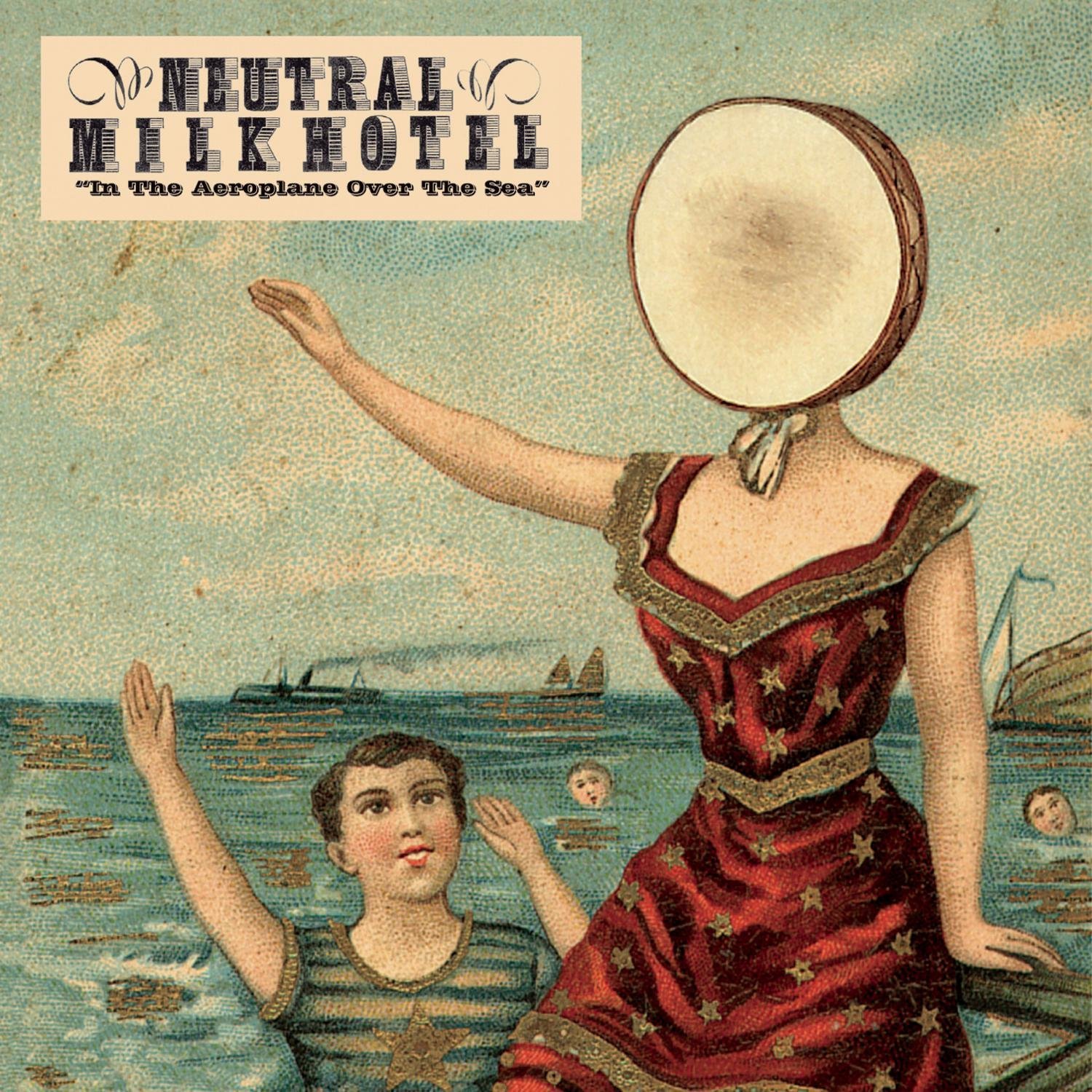 Jeff Mangum énekes-gitáros-dalszerző mindig is egy különc figura volt. A 90-es évek közepén Georgiából indulva körbeutazta az Államokat, miközben felvételeket készített a Neutral Milk Hotel álnéven. Egy EP és egy útkereső nagylemez után 1997-ben elkészítette az In the Aeroplane Over the Sea-t.
Nem várt kritikai elismerés és körülrajongás övezte a lemezt. A rajongók között hamar elindultak a spekulációk, hogy az album valójában a híres Holokauszt-áldozatról, Anne Frank-ről szól. Ezt maga Jeff Mangum is megerősítette -  a lány naplójának olvasgatása közben nyert inspirációt a dalok megírásához. Az Oh Comely szövegében például Mangum azért sóvárog, hogy legyen egy időgépe, aminek segítségével visszautazhatna 1945-be, hogy megmentse a kislányt.
"I know they buried her body with others her sister and mother and 500 families, and will she remember me 50 years later? I wished I could save her in some sort of time machine."

(részlet az Oh Comely dalszövegéből)
Szinte az összes szám tartalmaz utalásokat Frank-re, így koncepcióalbumként is felfogható Viszont az utalások spontánok és nem túl rendszerezettek, a kislány tragikus történetének ismeretének hiányában is tökéletesen élvezhető a lemez. Például a "legslágeresebb" dalban, a Holland, 1945-ben Jeff azt énekli Anne-ről, hogy "most már egy kisfiú Spanyolországban, aki lángoló zongorákon játszik".
A lemez nagy részén Jeff Mangum kiönti a lelkét egy szál gitár kíséretében - de a torzított gitárok és a vonósok is megjelennek. Hangzásukra "fuzz folk"-ként hivatkoznak - ilyenek a tempósabb dalok mint pl. a The King of Carrot Flowers, a  Holland, 1945 vagy a Ghost. A címet nem kapó instrumentális dalban a skót duda is megjelenik - a hangszerelés néha a XX. századfordulóra jellemző karneváli hangulatot juttatja eszünkbe. Alapvetően lo-fi környezetben vették fel az albumot Robert Schneider producerrel - Mangum hangja néha elcsuklik, néha túl hangos, néha torzít. Viszont közben olyan tiszta művészi magasságokba jut, amit nem lehetett volna mesterségesebb felvételi technikával rögzíteni.
Az In the Aeroplane Over the Sea az egyik legkülönlegesebb album a könnyűzene történetében. Ahogy a záródal végén Jeff Mangum jól hallhatóan leteszi a gitárt és elballag, úgy távozott a tehetséges dalszerző teljesen a zenei életből. A nagy siker után fellépések nélkül egyből visszavonult - így igazi hullócsillagnak bizonyult saját döntésének köszönhetően.
Viszont a lemez kultusza tovább élt. A hipszter mozgalom zenei szimbóluma lett - a R.E.M. designere által készített borító igazi melegágya volt a potenciális mémeknek. Jeff egy 19. századi üdvözlőlapot mutatott Chris Bilheimernek, aki az egyik karakter feje helyére beillesztett egy krumpliformájú valamit. A fejek helyére való photoshoppolásokból és egyéb újraértelmezésekből szemezgetünk: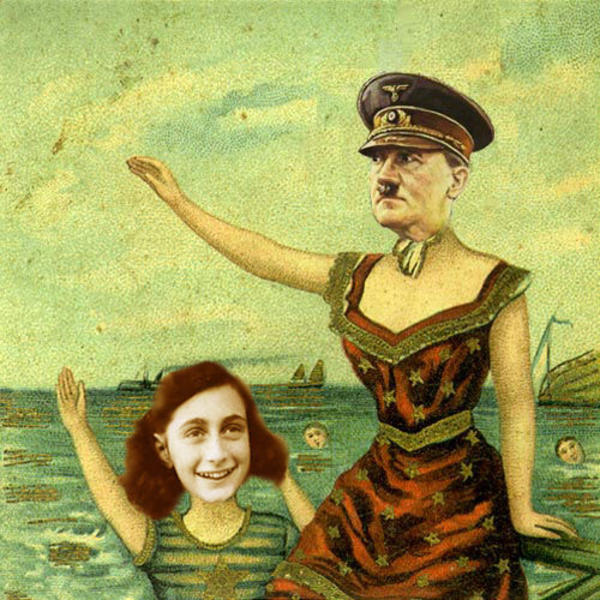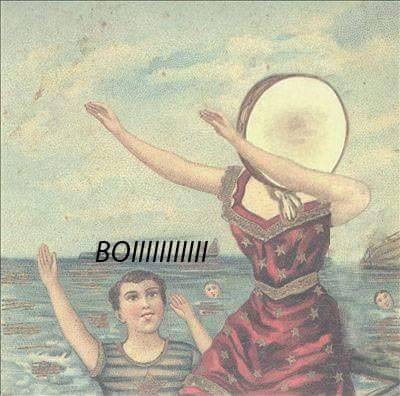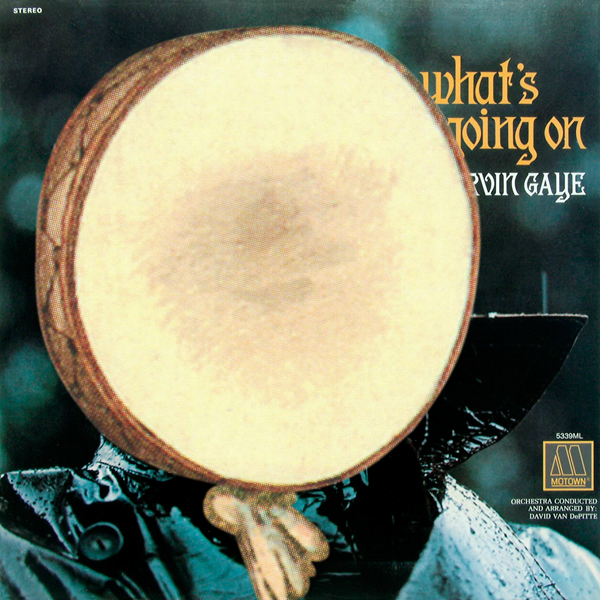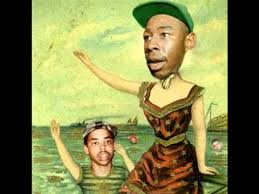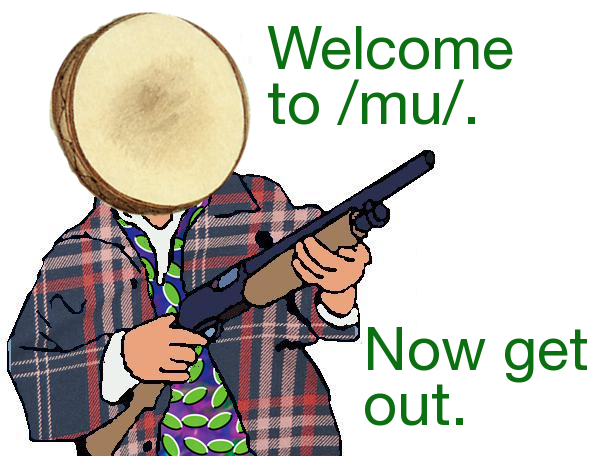 A borítón kívül Anne Frank kultusza és különböző vicces és/vagy fura idézetek is szállóigeként terjedtek a rajongók között, majd az interneten szélesebb közönséghez is eljutottak a mémek. A 4chan zenei rovatára vonatkozó /mu/ és az IAATOTS rövidítések is belső poénként indultak, aztán vírusként terjedtek a neten. Sokat elmond a jelenségről, hogy az albumnak már külön Know Your Meme oldala is van.
"I looooove you, Jeeeesuuuuus Chriiiist'!!"

"Semen stains the mountain tops"

"Soft silly music is meaningful magical,
The movements were beautiful, all in your ovaries."

(csak néhány mémmé vált szállóige az albumról)
Mindezek ellenére, elvonatkoztatva a - néha idegesítő és omnipotens - mémektől, az In the Aeroplane Over the Sea egy igazi klasszikus. Az indie folk mérföldköve, a 90-es évek egyik legjobb lemeze.
Első Oldal
No.
Cím
Hossz
1.
"The King of Carrot Flowers, Pt. One"
2:00
2.
"The King of Carrot Flowers, Pts. Two & Three" 
3:06
3.
"In the Aeroplane Over the Sea"
3:22
4.
"Two-Headed Boy"
4:26
5.
"The Fool" 
1:53
6.
"Holland, 1945"
3:15
7.
"Communist Daughter"
1:57
Második Oldal
No.
Title
Hossz
1.
"Oh Comely"
8:18
2.
"Ghost"
4:08
3.
"Untitled"
2:16
4.
"Two-Headed Boy, Pt. Two"
5:13
Teljes hossz:

39:55
(forrás:Wikipedia)
A bejegyzés trackback címe:
Kommentek:
A hozzászólások a vonatkozó jogszabályok értelmében felhasználói tartalomnak minősülnek, értük a szolgáltatás technikai üzemeltetője semmilyen felelősséget nem vállal, azokat nem ellenőrzi. Kifogás esetén forduljon a blog szerkesztőjéhez. Részletek a Felhasználási feltételekben és az adatvédelmi tájékoztatóban.