Elérkezett 2017 utolsó napja, így eljött az alkalom a számvetéshez is. Megannyi örömteli és szép, ill. szomorú élményt viszünk tovább magunkkal. Most koncentráljunk a pozitív dolgokra és lássuk a rengeteg idei lemez közül a legjobbakat! Buri listája következik.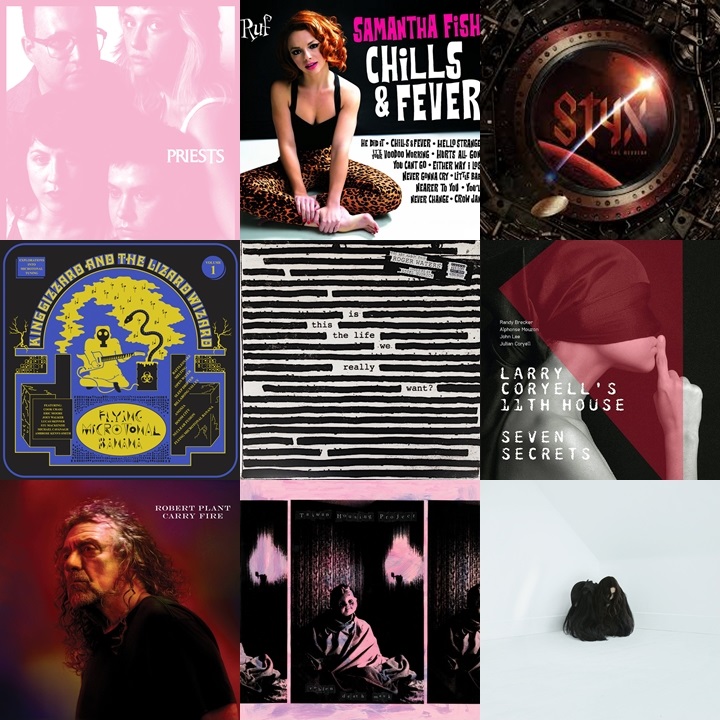 1. Roger Waters: Is This the Life We Really Want? - műfaj: art rock, art pop   10/9,5
Roger Waters pályája nem állt meg a Pink Floyd feloszlásánál, a legtöbb markáns "együttes-zenésszel" ellentétben sorra írta újszerű és kreatív lemezeit. A nyolcvanas évektől a klasszikus rockzene viszonylagos lehanyatlásáig, a kilencvenes évek eleje-közepéig jelentkezett a The Pros and Cons of Hitch Hiking (1984), a Radio K.A.O.S. (1987) és az Amused to Death (1992) c. albumokkal. Mindhárom zseniális lett, egyre jobban sikerültek. Azóta a Ça Ira c., a francia forradalmat feldolgozó operájának 2005-es kiadását leszámítva mindössze világjáró turnéin találkozhattunk vele - aki volt már Waters koncerten, az tudja, hogy a tökéletesnél is magasabbra helyezi a mércét. Nemrég azonban újra dalszerzésbe fogott, és megírta az érthető módon visszafojtott lélegzettel várt Is This the Life We Really Want?-ot. Jelentem, ahogy azt a listán elfoglalt helyezés is mutatja, ez a lemez is briliáns. Természetesen magán hordozza a waters-es dalszerzés és énekstílus minden jellegzetes elemét, de a mai fültől sem idegen. A gitár egy-két dalt leszámítva ugyan eléggé háttérbe szorul, helyére a különösen előtérbe állított szintetizátor és basszus lép. Kettősük a Wish You Were Here és az Animals dalait idézi, nagyon könnyű párhuzamot vonni, de nem, szó sincs ismétlésről. Elsősorban a szintetizátor kap főszerepet, pszichedelikus és főként art-rockos dallamaival méltó kíséretet nyújt a szókimondó, néhol aktuális társadalmi-politikai eseményekre reagáló szövegeknek. Természetesen, mint minden korábbi Pink Floyd tag szólólemezei, ez is concept album. Talán sikerült Waters-nek az Amused to Death után még egy szintet lépnie szólókarrierjében, de egy biztos, a színvonal nem csökken. A kérdés, már csak az, hogy hány új szerzeményt hallunk majd május 2-án. :-)
A legjobb dalok: The Last Refugee; Picture That; Bird in a Gale
2. Taiwan Housing - Veblen Death Mask - műfaj: posztpunk, indie, alternatív rock   10/9
Magával ragadó, az év messze legdinamikusabb, legfrissebb lemeze a Veblen Death Mask. Olyan tömény alternatív muzsika, hogy az ember nem is észleli az idő múlását, csak a percszámlálón látja, hogy eltelt harmincegy perc. A minden teret betöltő zene az ember minden belső érzelmét kiadja, kiüvölti gátlások nélkül. Kilynn Lunsford hangja csodálatos, mintha helyettünk mondaná el, amit mindannyian érzünk. Bár az első lemezét készítő Taiwan Hosuing Project tagjai aligha tudják, igazi előképük az A. E. Bizottság - és itt szeretném leszögezni, hogy bárki bármit mond, a Bizottság és a Taiwan Housing Project zenéjének van tétje. Ettől igazán felszabadító a stílusuk. Hallgassátok, a kezdő, ígéretes bandák közül ők a legjobbak.
A legjobb dalok: Authentic Alien Perfume; Luminous Oblong Blur; Veblen Death Mask
3. Styx – The Mission - műfaj: progresszív rock, aréna rock, pop rock   10/8,5
Egy újabb klasszikus friss munkájáról van szó, és egy újabb fenomenális lemezről. A popzenei orientációjáról híres együttes 2017-ben is ügyesen popularizálja a progrockot. Slágeres dallamai egy jó értelemben vett modern, kellemes, pozitív kicsengésű, boldogságot árasztó lemezen csendülnek fel újra, természetesen progresszív kereket között. A gitár és a szinti középpontba kerül, amit a szokszólamú vokál színesít. Alighanem minden, az utolsó 2005-ös lemezük óta felgyülemlett gondolat és tapasztalat felkerült az albumra. A The Misson annyira jól sikerült, hogy az egyik legjobb lemeze lett a Styx-nek.
A legjobb dalok: Gone Gone Gone; Khedive; Mission To Mars
4. Chelsea Wolfe - Hiss Spun - műfaj: alternatív rock, goth/doom rock   10/8,5
Az amerikai underground kortárs bugyraiból Chelsea Wolfe csillaga látszik a legmesszebb, amit idei, újabb lemeze is bizonyít. Néhány éve még azt hangoztatta a gitáros-énekesnő, hogy nem tudja egyelőre, melyik is az ő igazi arca, igaza hangja. Hogy azóta sikerült-e teljesen megtalálnia magát, nem tudom, mindenesetre lemezről lemezre egységesebb és kiforrottabb anyagot kapunk. Szerencsére kétszer sosem halljuk ugyanazt, Wolfe minden évben halad valamerre. Korábban nagyobb hangsúlyt kapott a folkos és az elektronikus világ, a Hiss Spunt azonban egyértelműen a előadó rockos, goth/doom metalos oldala dominálja. Így ha lehet, még sötétebb és érzelmesebb univerzumot kapunk. De metál ide vagy oda, a legcsodálatosabb, hogy Chelsea Wolfe úgy játssza a dark fémzenét, hogy nem tép az ember fülébe, nem lesz matekos, üvöltős zúzás. Inkább alternatív köntösbe csomgalja az érzelmeit. Épp ezért minden külsőség ellenére - korábbi munkáival egyetemben - a Hiss Spun egyáltalán nem metál, hanem rock. Stílusában nincs egyedibb és lehet, hogy nincs jobb előadó sem a kortárs zenében.
A legjobb dalok: 16 Psyche; Particle Flux; Static Hum
5. Samantha Fish: Chills & Fever - műfaj: soul, blues   10/8,5
A kortárs blues énekes-gitáros királynője idén műfaji kalandozásokba kezdett és első alkalommal egy félig klasszikus jazzes soul, félig blues-albumot készített. A lemez első fele inkább előbbi, a "B-oldal" inkább utóbbi felé hajlik. A fúvós kíséret jól szól, bár a legjobb dalokat leszámítva néhol elnyomja a gitárt. Ezek a bizonyos "legjobbak" a legmélyebb balladák a lemezről. Hab a tortán, hogy Samantha briliáns és igen különleges hangja soha nem villant még meg ennyire, mint most. Hogy merre visz Fish útja 2018-ban, nagyon izgalmas kérdés. Az év végén kiadott, szintén briliáns Belle of the West c. lemezén a country zsánerébe csapott bele és saját bevallása szerint a dalszerzés foglalkoztatta a legjobban az elmúlt időszakban.
A legjobb dalok: Crow Jane; Somebody's Always Trying; Either Way I Lose
6. Priests: Nothing Feels Natural - műfaj: punk, art punk   10/8,5
Míg a kétezres éveket jobbára a britpopra adott nemzetközi válasz (pl. Jet, The Strokes, The Black Keys), ill. a metál útkeresése (pl. Dream Theater, Tool, System Of A Down), esetleg az emo-láz jellemezte, az új évtizedben kifejezetten a punk hatása érzékelhető a fiatalabb rockbandákon. A Priests 2012-es alakulása óta most jutott el debütáló LP-jéig, ami egyből zseniálisra sikeredett (bár a punk együtteseknél ez egyáltalán nem szokatlan jelenség). Az évek során beérett a banda hangzása, és itt nem csak a gitárra gondolok, hanem elsősorban a csajok hangjára. A leginkább kiérlelt dal, a No Big Bang jelzi, hogy mennyire átgondolt a dalok szerkezete. Kíváncsian várjuk a folytatást.
A legjobb dalok: Appropriate; No Big Bang; Puff
7. Larry Coryell's 11th House: Seven Secrets - műfaj: jazz rock, fusion   10/8
A hetvenes évek fusion szuperformációi közül csak a Return To Forever állt össze újra, a Mahavishnu Orchestra, a Weather Report és az Eleventh House azonban évtizedek óta nem adott hírt magáról. Hála az égnek a "fusion keresztapja", a jazz rock gitározás megalkotója, vagyis Larry Coryell és társai (John Lee - basszus, Randy Brecker - trombita, Alphonse Mouzon - dob, billentyű, Julian Coryell - gitár, Dennis Haklar - gitár) 2016-ban úgy gondolták, ismét szólnak közönségükhöz. Ahogy albumaik, tudásuk sem fakult az évek során, csak a készítők öregedtek. Új LP-jük felteszi a koronát a többek közt általuk létrehozott jazz fusion műfajára. Ugyanakkor sajnos nem pusztán a felvett anyag miatt lett olyan fájdalmasan szimbolikus ez a lemez, idén a banda két motorja, előbb Mouzon, majd Coryell is elhunyt. A Seven Secrets érzelmes, a pályájukat összegző coda, méltó lezárás, Mouson és Coryell Lacrimosaja. Annál is inkább, mert az utómunkálatok már nélkülük folytak. Külön érdekesség, hogy Larry gitáros fia, Julian Coryell is játszik a felvételeken.
A legjobb dalok: Dragon's Way; Philly Flash; Seven Secrets
8. King Gizzard & The Lizard Wizard: Flying Microtonal Banana - műfaj: acid rock, pszichedelikus rock, progresszív rock   10/8
Vérbeli amerikai formációról van szó a King Gizzard & The Lizard Wizard acid/pszichedelikus/progrockos, a kilencvenes évek alternatív és dark hullámát idéző zenéje esetében. Még akkor is, ha ez a csapat nevezetesen ausztrál. Magával ragadó élmény concept albumukat föltenni és a dinamikus dalfolyamot végighallgatni. Ami a gyengéjük, ti. a zárt-monoton ritmus- és hangvilág, az az erősségük is, annyira behúz az adott lemez hangulata, érzésvilága. Mintha egy harmincöt-negyvenöt perces dalt bontanának tételekre, így születnek az LP-ik. Igaz, mindegyik más irányba mozdul. Ezt idén különösen jól demonstrálhatták, hiszen ötöt is sikerült kiadniuk. A Murder of the Universe, a Polygondwanaland és nem utolsó sorban a Flying Microtonal Banana kihagyhatatlan. Előbbi a legdinamikusabb, a második a legérettebb, utóbbi a legváltozatosabb. Folkos hatása színesíti a ritmusközpontú zenét, a Rattlesnake c. nyitó opusz pedig unásig hallgatható.
A legjobb dalok: Rattlesnake; Billabong Valley; Flying Microtonal Banana
9. Blondie: Pollinator - műfaj: újhullám, posztpunk   10/8
Az ikonikus újhullámos-posztpunk zenekar hála az égnek, amióta a kilencvenes évek végén újra összeállt, folyamatosan aktív, és ha nem is ontja magából az albumokat, 2010 óta ez már a harmadik LP-jük. A Pollinator hozza a Blondie megszokott stílusát, ilyen szempontból nem okoz meglepetést. Viszont jó hallani, hogy ennek ellenére sem fulladnak bele a saját hangzásvilágukba, hanem igen kreatívan végzik ma is a dalszerzés (tehát nem zeneszerzés, hanem dalszerzés) bonyolult feladatát. Üdítő az újabb és újabb introkat és szinti dallamokat végigfülelni, Debbie Harry az évek során cseppet mélyült és ércesebbé váló hangja pedig tökéletesen szól.
A legjobb dalok: Fun; My Monster; Long Time
10. Robert Plant: Carry Fire - műfaj: folk rock, country   10/8
A néhai Led Zeppelin legendás énekesének nyolcvanas évektől datálható szólókarrierje igen változatos ívet rajzol maga mögött. Több műfajban is megmártózott, mégis megtartotta a Zeppre jellemző könnyed hangvételt. A gitár sem tűnik el, bár nem kap olyan jelentős szerepet, mint Jimmy Page kezében. Ugyanakkor figyelemre méltó, hogy a nosztalgiázástól irtózó Plant mennyire önazonos és felismerhető tud maradni, miközben teljes mértékben mai muzsikát készít. A Carry Fire logikus folytatása az elmúlt években elkezdett útnak, ami a blues felől inkább a folk irányába fordul. A Band Of Joy dalai ugyan jobban sikerültek, de ez a lemez is megérdemli az elismerést. Plant ismerős orgánumát hallgatni már csak hab a tortán.
A legjobb dalok: The May Queen; Carving Up The World Again... a wall and not a fence; Keep It Hid
És amik épphogy lemaradtak a listáról...:
1. Samantha Fish: Belle of the West - műfaj: country, blues   10/8
A legjobb dalok: American Dream; Belle of the West; Gone for Good
2. Larkin Poe: Peach - műfaj: blues-rock, pop   10/8
A legjobb dalok: Freedom; Cast 'Em Out; John The Revelator
3. Queens of the Stone Age: Villains - műfaj: alternatív rock   10/8
A legjobb dalok: Domesticated Animals; Head Like A Haunted House; The Evil Has Landed
4. King Gizzard & The Lizard Wizard: Polygondwanaland - műfaj: acid rock, pszichedelikus rock, progresszív rock   10/8
A legjobb dalok: The Crumbling Castle; Polygondwanaland; The Fourth Colour
5. Walter Trout: We're All In This Together - műfaj: blues   10/7,5
A legjobb dalok: Gonna Hurt Like Hell (feat. Kenny Wayne Shepherd); Blues For Jimmy T. (feat. John Mayall); We're All In This Together (feat. Joe Bonamassa)
6. PFM: Emotional Tattoos - műfaj: progresszív rock   10/7,5
A legjobb dalok: La danza degli specchi; Mayday; Quartiere generale
7. Nova Collective: The Further Side - műfaj: jazz rock, fusion   10/7,5
A legjobb dalok: Dancing Machines; State of Flux; Ripped Apart and Reassembled
8. Vijay Iyer Sextet: Far From Over - műfaj: free jazz   10/7,5
A legjobb dalok: Far From Over; Down To The Fire; Into Action
9. Songhoy Blues: Résistance - műfaj: desert blues 10/7,5
A legjobb dalok: Bamako; Sahara (feat. Iggy Pop); Mali Nord (feat. El Kid)
10. Tim Bowness: Lost In The Ghost Light - műfaj: art pop, progresszív rock   10/7
A legjobb dalok: Worlds of Yesterday; You Wanted To Be Seen; Distant Summer
Ajánlom még:
LCD Soundsystem: American Dream
Oxbow: Thin Black Duke
Clarke And the Himselfs: In Your Heart You Know She's
Ron Gallo: Heavy Meta
The Gringos: The Animal Kingdom
Tonstartssbandht: Sorcerer
Sheer Mag: Need to Feel Your Love
Gov't Mule: Revolution Come... Revolution Go
Nadine Shah: Holiday Destination
EMA: Exile In The Outer Ring
Valerie June: The Order of Time
Randy Newman: Dark Matter
Downtown Boys: Cost of Living