A Led Zeppelin-re  mint minden idők egyik legnagyobb hatású hard rock bandájára szoktunk emlékezni. Mindmáig a 2007. december 10-ei O2 arénában rendezett koncertjük az utolsó közös fellépésük.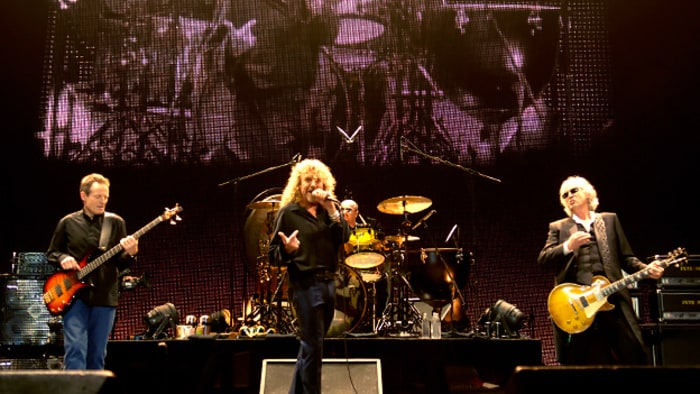 A 70-es éveket egyértelműen ők uralták, arénákat töltöttek meg, 1971-es Wembley-ben adott koncertjük minden idők egyik legnagyobbika. Viszont 1980-ban elvesztették drog - és alkoholproblémákkal küszködő dobosukat, John Bohnam-et. Ezután az együttes feloszlott, hiszen megbomlott a kvartett egyensúlya – képtelenek voltak tovább folytatni az minden idők egyik legnagyobb bevételt hozó rockzenekart. Ezután a tagok szóló karrierbe kezdtek – persze Robert Planté volt a legsikeresebb. Ő mindig az aktuális zenei trendeket követte, sosem tűnt kiöregedett rockzenésznek. Egyedül Bob Geldolfnak sikerült összehoznia a legendás zenekart az 1985-ös Live Aid-re. Akkor Phil Collins ugrott be dobosnak.
2007-ben váratlanul újra összeálltak, akkor John Bonham fia ült be a dobok mögé. Több mint 2 órás koncertet adtak a londoni O2 arénában telt ház előtt – utóbbi nem nagy meglepetés. Ezután 2012-ig kellet várni a koncertről készült film, a Celebration Day bemutatására.
Azóta Robert Plant kategorikusan visszautasítja az újrakezdést, bár állítólag már egy 800 millió dolláros szerződés is volt előtte, amit összetépett. Zenésztársai Jimmy Page és John Paul Jones beleegyeztek volna egy reunion turnéba, de Robert Plant kitart amellet, hogy nem érdemes a múltba révedni, mindig a jövőbe, az új zenék felé kell tekinteni. Legutóbb az új Carry Fire c. albumának megjelenése kapcsán kérdezték az esetleges Led Zeppelin újraalakulásról: "Nem mehetsz vissza az időben – az egy évvel ezelőtti dolgokat is nehéz megismételni, nemhogy egy 49 évvel ezelőttit" – mondja Plant.